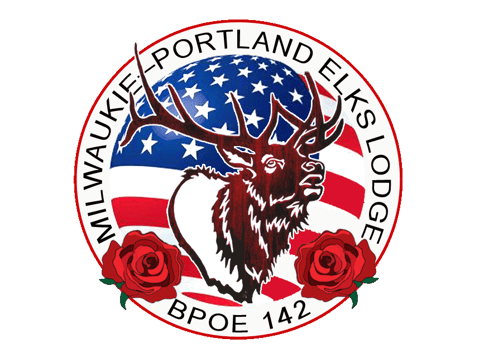 Meet our Officers
Lynsie Winstead
I am your current Exalted Ruler for the year 2023-2024. I was the first Antler's president for the youth program for the year 2016. I have been involved with the Elks over 10 years & I am so honored to be your leader this year! Please don't hesitate to reach out to me if you have any questions, concerns, ideas, or want to be involved more! You can contact me at lwinstead142@gmail.com
Cameron Bodine
I have been an ELK for 8 years! I am the current Esteemed Leading Knight. My wife and I enjoy all the volunteering activities and amenities that our lodge provides. I have been an officer of Milwaukie-Portland Lodge #142 for 2 years, performing the duties of the Esteemed Lecturing Knight, the Esteemed Loyal Knight stations respectfully. I look forward to Leading and volunteering all my years as an officer and as an ELK.
Jasen Allen
I am a 6 yr member of the Elks and excited to be your Esteemed Loyal Knight.
I have been in the Steel Industry for 15 years. Supported by my Lovely Wife Amanda, father of 5 children and Grandfather of 1.
I am happy to respond to all correspondence at Jasen.Allen@yahoo.com
Casey Hirsch
Casey was born and grew up in a small lumber town in the PNW. He left home at 18 for college and didn't look back. Casey started working immediately in food and retail. There he quickly found a passion for people, business, and leadership. Casey has been leading people and managing businesses for nearly 25 years. He joined the Elks in 2022 to get more involved with Veterans and their various charities. It wasn't long after becoming an Elk that he found a passion for the BPOE and the people who make it up. You can find Casey at the Lodge most days volunteering in some capacity. When he is not at the lodge you will likely find him with friends and family outdoors and or traveling.
Mary Frances
Member since 1995 (first initiation in Oregon allowing women to join). I come from an Elks Family. My Brother, Brother-in-Law, and Husband all served as officers in the lodge, moving through the chairs and serving as Exalted Ruler. My father was an active member serving on the Board of Trustees. My mother , Aunt, sister and cousin were all active in the Emblem club with my cousin and myself serving as President.
Before joining the Elks, I was an active member of the Emblem Club (a national fraternal organization for female relatives of Elk members). Serving as President 3 years and held several State offices.
I have been an active Elk member since joining in 1995.
Offices Held:
Chaplain
Esteemed Lecturing Knight
Esteemed Loyal Knight x 2
Esteemed Leading Night x 3
Exalted Ruler x 5
Board of Directors (Chairman)
Cory Kalteich
I've been honored to be an Elk for almost 7 years. Friendly and outgoing extrovert. I enjoy helping people and being a part of something great, with the ability to help my community. I also enjoy outdoor activities, like camping and fishing. A father of 3 and a Papa to 3 amazing grandkids. Faith, Family & Friends!
Danielle Leckband
I am a four year member and an Officer Lodge Vocalist. I am the Orientation Chair, Americanism Essay Contest, American Essay Chairman, and the LoveOne Committee Chairman. I am a proud Elk!
Dave Hollingsworth
Was born and raised in Lake Oswego. Married for almost 30 years to the best wife anyone could ask for and raised two awesome daughters. Professionally I have a degree in accounting and spent the past 30 years working in large corporations, non-profits, government, government contractors and owning my own small business. The past 11 years have been in the franchise accounting world running a small payroll company that has clients in 25 states. I wish to utilize my skills to help the lodge in any way I can.
Victoria Bodine
Hi my name is Vicky Bodine. I am your lodge Chaplin for 2023/2024. This is my third year serving as your Chaplin. I am also the chairperson for the EERST committee (Elks Emergency Response Support Team). I have a huge passion for caring for our community and doing everything possible to keep those within our community safe and happy. I am married to Cameron Bodine, the current Esteemed Leading Knight. We are preparing to celebrate our 20th anniversary. We have 2 dogs and a cat who believes he is a dog. We are resource parents but do not currently have the privilege of having any kiddos in our home.
Chris Haus
I am the current Esquire for Lynsie Winstead. I am a Past Exalted Ruler of 2016-2017. I have been a member for 14 years and contributed to numerous committees including co-chairing the Fear Asylum Haunted House, reactivating the Antlers Program, and returning the Elks to the Starlight Parade.