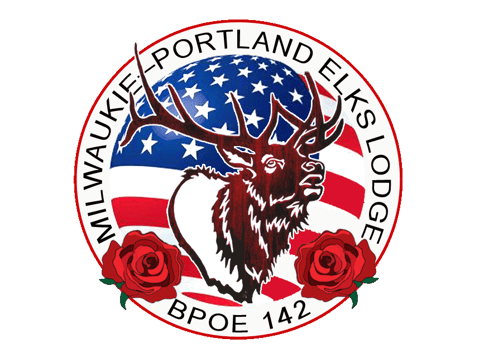 The Elks Eye Safety Poster Contest Why Is It Needed?
Eye Injuries are not only a major cause of serious and permanent visual loss for Oregon children, but they can also be prevented! It is the primary purpose of the Elks Eye Safety Poster contest to prevent eye injuries by presenting injury prevention facts directly to children, their families and teachers, and obtaining their help.
The Elks have provided the Casey Eye Institute staff with thousands of dollars' worth of the very best equipment and supplies for the management of eye injuries: nevertheless, one out of every three hospitalized children end up with markedly impaired vision (20/200 or less) in the injured eye, and many children suffer the loss of the eye itself. The tragedy is that nearly all of the injuries could have been prevented.
Who is MOST likely to receive a serious eye injury? It is a boy age 7 to 10, but one out of four eye injuries occur at all ages beginning as soon as a child is old enough to walk and fall on sharp objects – or pick up a knife. Children living in the city are affected nearly as often as those living in rural and suburban districts. The peak of injuries occurs in late spring and early summer when outdoor activities increase. Another peak occurs at Christmas time when children receive air guns, bows and arrows, darts and other unsafe toys.
How do eye injuries occur? Sticks, stones, snowballs, darts, dirt clods and other objects thrown by one child at another have been the most frequent cause of permanent loss of vision. Your eye is a delicate structure. A thrown pebble which bounces harmlessly off any other part of your body can cause painful and sight destroying injury if it strikes your eye. Many children were saved from this kind of injury because they were wearing glasses with plastic or hardened lenses.
The Message for Children
-DON'T THROW ANYTHING AT YOUR SCHOOLMATES!

-Remember B-Bs bounce and skip. Be careful how you shoot and be careful when others

around you are shooting. Young children should never use air guns without close adult

supervision.

-Remember not to run holding anything sharp in your hand. Take dangerous objects away

from small children but do it carefully and without exciting them.

-Limit the amount of screen time daily.
The Message for Everyone

Wear glasses or protective goggles whenever you are working with tools, around workshops or in other similar places. Prevent painful and sight destroying eye injuries.
Sponsored by Milwaukie Portland Elks Lodge #142, 13121 SE McLoughlin Blvd, Milwaukie
Oregon Elks Eye Safety Poster Contest
Get your creative juices flowing and make a poster for the Oregon Elks Eye Safety Poster Contest. It's easy and fun. Here's all you have to do:
1.) Contest is open to 4th, 5th and 6th grade students.

2.) Paper size: Minimum 12"x18", Maximum 16"x22".

3.) The poster MUST show how to prevent eye injuries or what causes eye injuries.

4.) You can use crayons, watercolors, ink, colored pencils, markers or paste ups.

5.) Lettering should be large enough to be easily read from 5-10 feet away (check your spelling!).

6.) Posters should be neat and thought out ahead of time.

7.) On the BACK of your poster, write (or use form). Be sure it is legible and correct:

a) your name and phone number
b) your home addressc) your school's name and address
d) your grade and teacher's namee) Name of the Elks Lodge you are turning your poster in to ~ District

8.) Posters are due to Milwaukie Portland Elks Lodge no later than January 31.

9.) Students need to work independently and not in groups
The purpose of the poster is to educate everyone on the increasing frequency of eye injuries from thrown objects, sharp objects, explosives, BB gun pellets, sun glare, etc. By making a great poster we hope to share ways on how to keep your eyes safe from harm.
The top three winning posters will advance on to the next level. Awards will be given on the best presentation of eye injury prevention, artwork and neatness. The top three winning posters statewide will be on display at the Oregon Elks Childrens Eye Clinic for the coming year.
If you have any questions, contact Emma at backtrax1@gmail.com